Ptosis
Definition: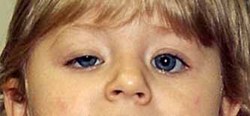 Ptosis
Objective: The upper eyelid lid margin is positioned 3 mm or more lower than usual and covers the superior portion of the iris

Subjective: The upper lid margin obscures at least part of the pupil
Comments:
True ptosis usually occurs in the presence of normal palpebral fissure length. Apparent ptosis is seen in Blepharophimosis and other causes of Short palpebral fissures. Pseudoptosis occurs in the presence of severe zygomatic underdevelopment when the resulting dramatic downward eye slant pulls the upper eyelid diagonally across the globe.
Synonyms: