Nasal Tip, Overhanging
Definition: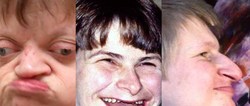 Nasal Tip, Overhanging
Subjective: Positioning of the nasal tip inferior to the nasal base
Comments:
This finding is often associated with a long nasal ridge. It is best appreciated in profile. This may also coexist with a Depressed nasal tip and Low insertion of the columella and should be coded separately.