Alveolar Ridge Overgrowth
Definition: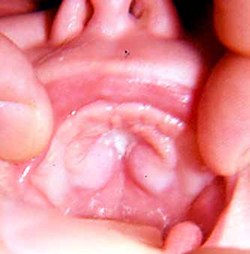 Alveolar Ridge Overgrowth
Subjective: Increased width of the alveolar ridges
Comments:
This finding may or may not be accompanied by increased height of the alveolar ridge. This is not to be confused with Prominent palatal ridges or Gingival overgrowth. This distinction of gingival from alveolar ridge overgrowth may be difficult, especially in milder degrees of the finding.
Replaces:
Alveolar Ridge Hypertrophy