Premaxillary Prominence
Definition: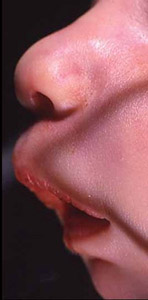 Premaxillary Prominence
Subjective: Overdevelopment of the premaxilla
Comments:
As a consequence of prominence of the premaxilla, the overlying structures, the nose and philtrum, may appear prominent. There is increased convexity of the face and an increased nasolabial angle. In the presence of a normal sized mandible, retrognathia may be appreciated.
Synonyms:

Replaces: