Premaxillary Underdevelopment
Definition: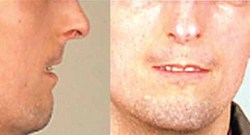 Premaxillary Underdevelopment
Subjective: Reduction in size of the premaxilla
Comments:
As a consequence of underdevelopment of the premaxilla, the overlying structures, the nose and philtrum, may appear flattened. There is increased concavity of the face and a reduced nasolabial angle. In the presence of a normal sized mandible, prognathism may be appreciated.
Synonyms:

Replaces: