Eyelashes, Long
Definition: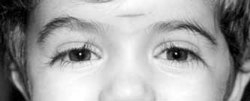 Eyelashes, Long
Objective: Mid upper eyelash length >10 mm

Subjective: Increased length of the eyelashes
Comments:
Measurement should be done on the longest lashes, which are usually at the center of the lid. Normal values are 7.99 ? 1.05 mm in boys and 7.76 ? 1.03 mm in girls [Pucci et al., [2005]].
Synonyms: